You must first register information of your item to utilize Openlogi.
Please register the information of your item consigned to Openlogi on the management screen.
Registration method of product information
① Click on [Product Master].


② Input information of your item, Click [Save] at the bottom of the screen.
○Register your items by the smallest classification unit (SKU).
○Register the same item with different size, color as a separate item.
○Please confirm items cannot be handled in advance.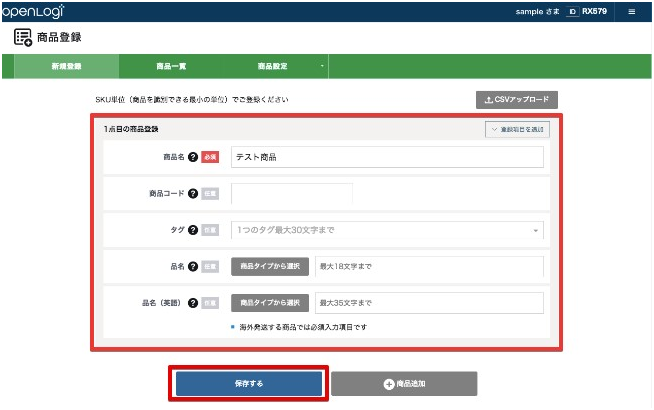 Fields of product information are as follows.
| | |
| --- | --- |
| Field | Explanation |
| Product name | Input the product name. |
| Original ID | You can input the Original ID. |
| Tag | A function which makes the search for a certain product from the product list easier. For instance, you can narrow your search results to only the items with the inputted tag, such as '2018 released model' and 'For overseas' |
| Category | 'Category' is a required information at the shipment from Openlogi which you are able to set in advance. |
| Category-English | It is required when you ship abroad. |
③ Once product registration is completed, [Product List] shows automatically.
You can alter and delete your product information on [Product List].
*There are restrictions on deleting an item.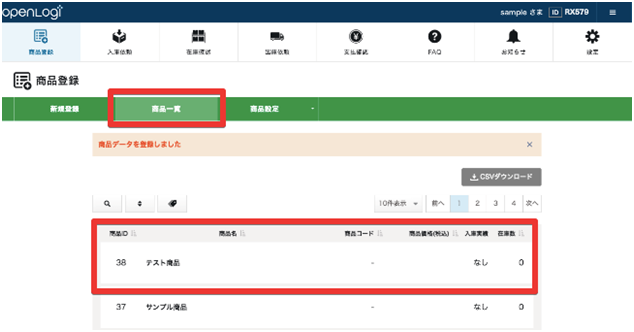 (i) When product registration with Openlogi is completed, an' Product ID' which is used to identify per item is issued.
Additional Option Setting
Optional information can be set for your product information. If you need to do so, you can add the information at [Adding Registration Field].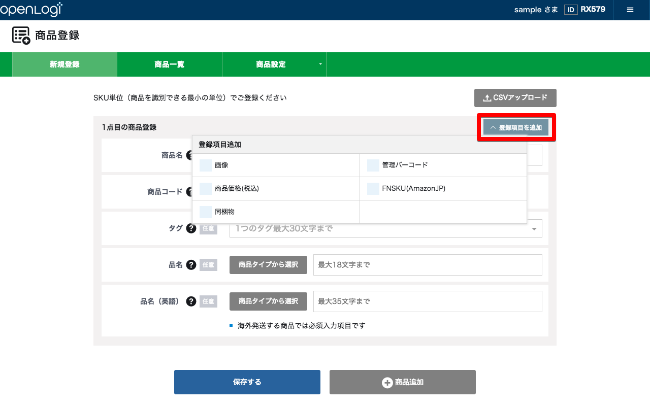 Fields of the additional options are as follows.
Field

Explanation

Image

You can register an image of your item with this field. After registering, the image displays on a list of thumbnail images.

Barcode

It is required when 'Barcode' is selected as the inspection type for the consignment to Openlogi.
The barcode information – JAN code of your firm can be input.

Item Price

This field enables you to preset your item price to be listed on the included detailed statement.
*Alternatively item price can be set at the time of shipment by Openlogi.
*Setting of 'Tax included/excluded' is available at [Consumption Tax Setting].

FNSKU(AmazonJP)

This field is essential to make use of FBA - Fulfillment by Amazon.

Included Article

Used when registering an article as an included article.
*Only freebee articles such as flyers and thank you letter will be accepted to be registered.
This is all for the registration of product information.

Openlogi Start Guide
Step1. Registering your product information
Step2. Consigning your item to Openlogi
Step3. Shipping your item from Openlogi