We will introduce the basic operation procedure and the points to be taken for utilizing Openlogi for new users to make the most of our service.

Step by step introduction of how to use
There are 3 steps for utilizing Openlogi, these are 'Registering your product information' 'Consigning your item' and 'Shipping your item'
Let me explain the steps in detail.
Step1. Registering your product information
Step2. Consigning your item to Openlogi
Step3. Shipping your item from Openlogi
Demonstration site
This start guide is designed to be used by looking at the actual screens simultaneously.
Before setting out the start guide you will have to register an account of the demonstration site.
*If you already have an account with us, still the account registration for demonstration site
is necessary.
(i) Since Openlogi system links up with our warehouse operation, a status such as after consigning items to Openlogi or after the shipment by Openlogi does not change on the Openlogi site until those warehouse operations have been done but those status are updated automatically on a demonstration site.
(!) Demonstration site shows 'DEMO' sign on the upper side of the screen.
Please pay attention to the sign if you have an account of the main site.



Demonstration site setting
The registration of 'Payment information' is required to utilize the demonstration site.
We recommend registering your payment information first of all after accessing the site.
*For an attempt to make an in-stock or shipment request before the registration, the request pages will be automatically shifted to [Payment Information Registration] screen.
Registering 'Payment information registration'
Your payment information can be registered on [Setting] > [Payment Information] > [Payment Information Registration].
Following 3 options are available but for the demonstration site, choose 'Deferred payment with a bill'.
Setting Method
Select your 'Payment method' then input the required fields to set.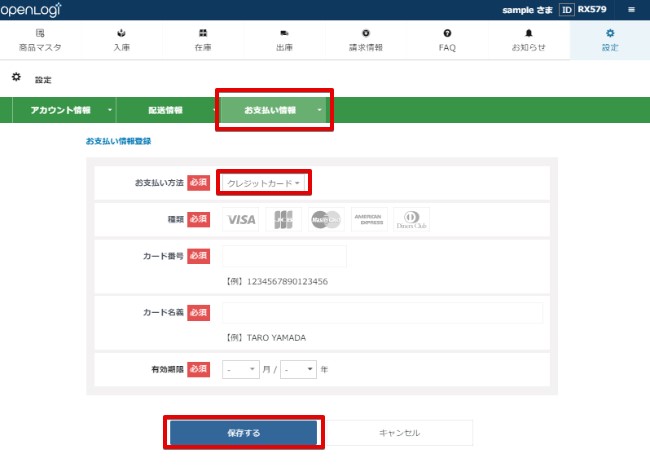 Step1. Registering your product information
Step2. Consigning your item to Openlogi
Step3. Shipping your item from Openlogi