You can set the choice on [Consumption Tax Setting] after going to [Product Master]> [Product Setting].
Select 'Tax included' or 'Tax excluded' then click on [Set].
If 'Tax excluded' was the choice, select the handling way of decimal fraction for the tax calculation from 'Round-down', 'Round-up' and' Round off'.
The selected consumption tax setting will reflect on 'Shipment product information' when you request shipment.
For 'Tax excluded' setting, the consumption tax will be automatically calculated according to the amount inputted to 'Subtotal'.
* Any amount of your choice can be inputted by deleting the consumption tax amount by automatic calculation.
*With 'Tax included' setting, 'consumption tax' field on the 'Shipment product information' page will not display.

Setting method
check the mandatory fields then click on set.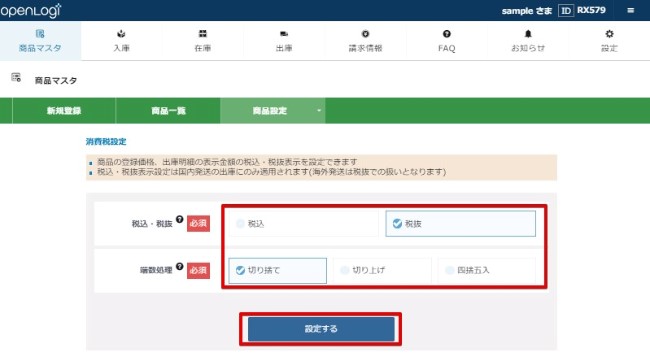 Shipment request screen
Under 'Tax included' setting, 'Subtotal' and' Consumption tax' will be displayed automatically by inputting'Unit cost''Quantity'of the item.