We can only deal with 'A4 black and white one-side print'.

Available file formats for uploading are PDF, jpg and png (Image will be adjusted to A4 size)
For the price, check the price list.
There are two choices how to stick them to a cardboard box that are either 'Stick directly to the box' or 'put it in a plastic bag before sticking it to a box'.
The method of sticking to the cardboard box both directly and in a plastic bag will be available only for carrier delivery with a cardboard box size 60 and more. With other delivery service (Posting delivery) it will not be available.
Please select the area to stick on the cardboard box. You can choose the upper surface and the side of a box (short side) as well as multiple areas.
If items are split into more than one box, all the boxes will be affixed. When including in a box or putting in a plastic bag, we operate the work to a main box only.
For the case that you stick a label for a wholesale dealer on a box, please make sure to use 'one file for one label'.
If the multiple labels are in a file, we print it out as it is and stick to a box.
* In the event that an item was returned due to the attachment failure/incomplete contents of the file etc, we will not be accountable for the case.
Setting Method

1. Click on 'Attachment' under 'Other setting' at the bottom of the shipment request making screen.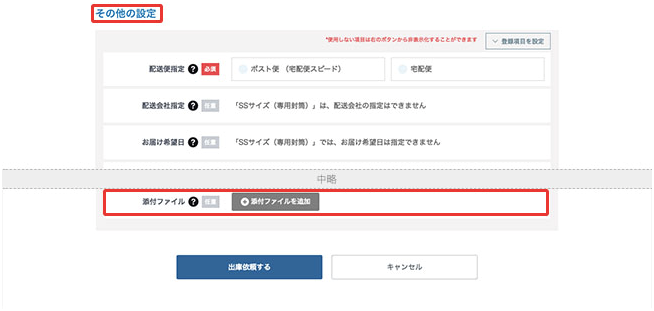 2. Upload the file.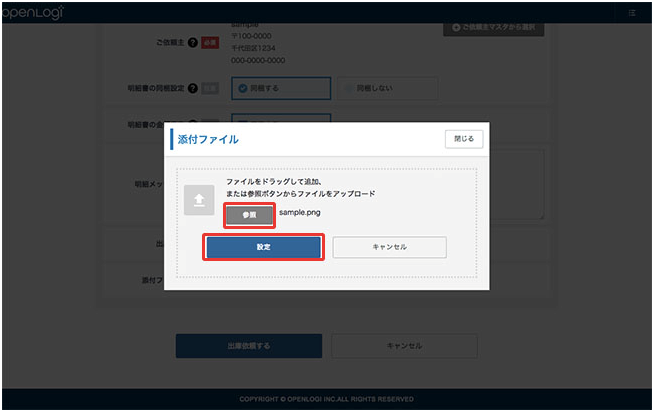 3. Check off a method of your choice.